Membership Recruitment Luncheon
Held Sep. 27, 2008 at the Tillamook County Library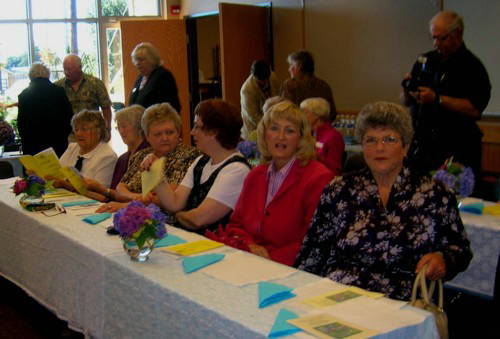 Several members brought guests and most of those guests decided to join AAUW of Tillamook County. Hooray! We love new members!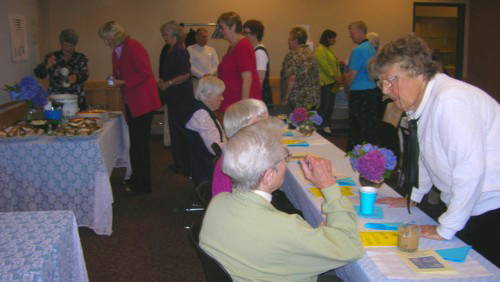 The buffet style luncheon was catered by Muddy Waters of Tillamook. A decorating committee of members and spouses set up the tables and made flower arrangements for all the tables. Mary Sause, Communications Vice President, served as chairperson for the luncheon.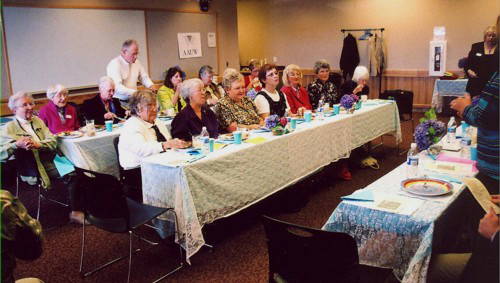 Approximately 25 people attended the Saturday afternoon luncheon to learn more about AAUW's goals and missions.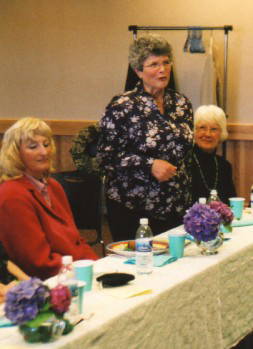 Resourceful member Patricia Williams (in red), recruited a new member from her jury duty experience. All guests were introduced, then asked to tell the group a little about themselves.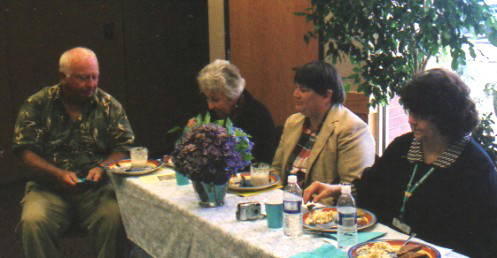 The buffet included soup, various sandwiches, salad, desserts, coffee, and water. Spouses of members are welcome at all programs and events. Several were in attendance at the luncheon. They help with table set-up and put-away, photography, and in a hundred different ways throughout the year.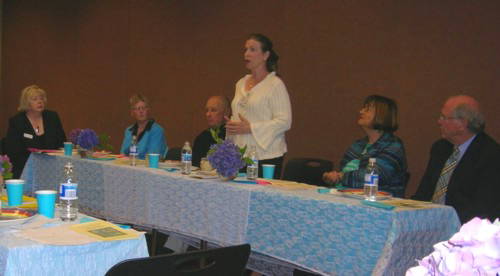 Programs Vice President and Acting-President, Dione Bacon, welcomed members and their guests. She introduced state and branch officers and explained some of the activities and programs that the branch participates in throughout the year.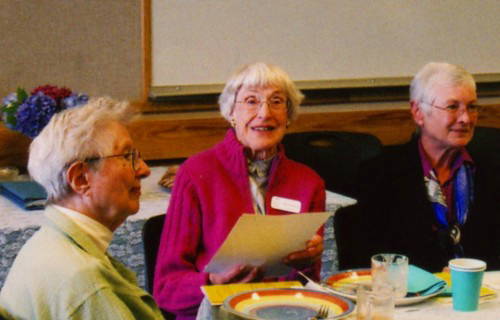 Several members received certificates honoring their 50 years plus membership in AAUW of Tillamook County. The award recipients included Claire Peterson (63 yrs), Bernadine Seabrandt (56 yrs), Margaret Winslow (56 yrs), and Alice Voges (51). Bernadine is holding the certificate (center) and Claire is shown in profile. Phyllis Ham, a member for two years, is at right in the photo.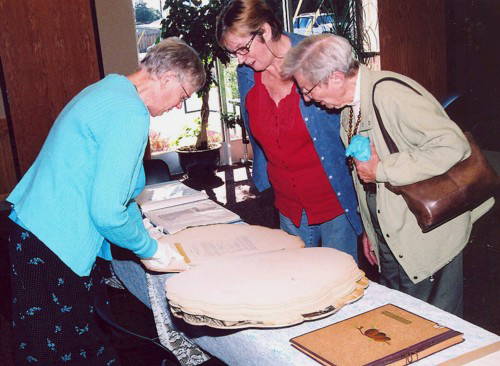 Carol Brown, AAUW member and director of the Tillamook Pioneer Museum, has archived the early AAUW of Tillamook scrapbooks and they were available for viewing at the end of the program. Maggie Burton turned pages for those that did not have on gloves, since the oils from our hands could damage the fragile papers.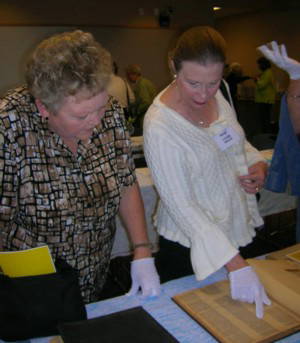 Special care was taken to preserve the fragile albums.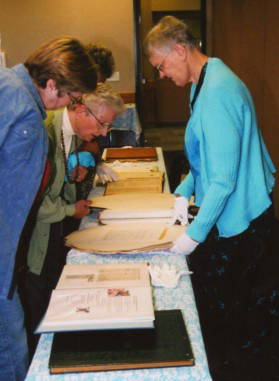 A shell-shaped scrapbook dated back to the late 1930's.
Modern albums were on display also.
 Photos by Betty and Dick Diamond