By joining or supporting American Association of University Women (AAUW) you will belong to a community that breaks through educational and economic barriers so that all women have a fair chance.
Read important updates from our president ….
(Click link below)
President's
Page
WELCOME TO TILLAMOOK AAUW! Celebrating Service and Advocacy Since 1938
Calendar 
Tillamook AAUW Branch meetings are held on Zoom at 11:00 a.m., second Saturdays of months Sept., Oct, Nov,, Jan,, Feb., March, April and May.  

Branch Newsletters
FORMS

A Total of $14,000 AWARDED TO SCHOLARSHIP WINNERS
Baelie Werner at OIT in Civil Engineering and Math
Claire Bradley at OSU in Chemistry and Pharmacy
Kara Putman at Pacific University in Math and Dentistry
Allison Wilkes at Pacific University in Public Health
Brinda Jimenez at Pacific University in Math and Film Making
Lilly Weber at Snow College (Utah) in Pre-Pharmacy
Katelyn Jenck at OSU in Environmental Engineering
Karissa Haderman at OSU in Natural Resources and Forest Management
Angela Nadeau at Tillamook Bay Community College
*****
2019 Tillamook County High School Young Women Recognized for Achievements in STEM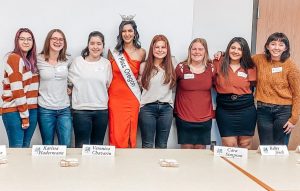 The Tillamook Branch of the American Association of University Women (AAUW) held the 18

th

Annual STEM recognition event at Tillamook Bay Community College on Sunday, February 23, 2020. The event honored young women from local Tillamook County High Schools who have excelled in the areas of Science, Technology, Engineering and Mathematics.

Students were nominated by their teachers for their strength and achievement in the STEM areas. The 2019 honorees were:
Nestucca Valley Junior/Senior High School:

Mathematics, Veronica Chavarin; Technology, Cara Simpson
Neah Kah Nie High School:

Mathematics, Karissa Hadermann; Science, Kayla Naylor; Technology, Megan Troutman
Tillamook High School:

Mathematics, Brinda Jimenez; Science, Katey Jenck; Technology, Brinda Jimenez
AAUW Member Lisa Phipps had a conversation with the nominees about what they like about STEM subjects, challenges that they have faced, and their future plans.

The guest speaker was Miss Oregon 2019, Shivali Kadam, a chemical engineer working in construction management. Her social impact platform is "STEM to Bloom: Growing the Next Generation of Female Engineers and Scientists". She spoke to the group of her challenges, both in becoming an engineer and pageant life. Shivali's Facebook Page shares that "We honored seven phenomenal young women from three high schools for their exceptional scholastic achievements in the fields of science, technology, engineering, and mathematics. I loved hearing them speak about the obstacles they've overcome thus far in their lives and their plans for their futures".
* * * *
Another Successful Year of Tech Trek Camp 2019
AAUW Tillamook Branch wrapped up their 6th year of Tech Trek STEM camp held at TBCC.  Thirty 8th grade girls attended the week-long camp which emphasized studies in science, technology, engineering and math.  The girls were nominated by their teachers from Astoria, Warrenton, Seaside, Neahkanie, Tillamook, Nestucca, Newport and St. Helens school districts.  During the week, the girls took classes in coding, app building and cyper-security taught by Rachel Williamsen and Nadja Paulissen. Ocean robotics and squid dissection were explored at Hatfield Marine Science Center.  Other afternoon workshops were about watershed mapping, ocean habitats, engineering, professionalism, soil science and nutritional biology.  Professional women in Tillamook County (representing TEP, US Forest Service, TCCA, Friends of Netarts Bay WEBS, and OSU Extension) were interviewed by the girls at a special dinner.  Pioneer Museum volunteers organized an afternoon of environmental studies and data gathering at Kilchis Point. This AAUW camp is one of eleven held across the country; all of them at Universities except for Tillamook's camp held at TBCC.
---
About TILLAMOOK Branch
The Tillamook branch of AAUW works together to promote the welfare, education, and rights of all women and girls.
With these goals in mind, the branch works on fundraising projects and other programs that promote math, science, and technology (STEM)  education for girls by honoring nine high school women each year for their excellence in these fields and by providing thousands of dollars worth of scholarships for local women attending 2-and 4-year higher educational institutions.
Our community education projects include co-sponsorship of county spelling bees and the hosting of political forums so that citizens can meet the candidates and hear their views.