By joining or supporting American Association of University Women (AAUW) you will belong to a community that breaks through educational and economic barriers so that all women have a fair chance.
Read important updates from our president ….
(Click link below)
President's
Page
Learn More About AAUW!
SCHOLARSHIPS AVAILABLE!
IMPORTANT DEADLINE MARCH 14th:  2018-2019 Scholarships Available (see announcement  and application forms below)
---
Calendar 
BUSINESS MEETINGS ARE HELD AT PACIFIC RESTAURANT ON MAIN STREET 11:30-1:00 (OCT. 12, NOV. 9, DEC. 14, JAN. 11, FEB. 8. MARCH 8, APRIL 12, MAY 10)
STEM RECOGNITION: FEB. 4 AT TBCC 2:00
Human Trafficking Seminar Feb. 8th (co-sponsoring with Women's Resource City
Oregon AAUW Lobby Day in Salem Feb. 9th
WINGS one-day Conference in Astoria Feb. 10th
COUNTY SPELLING BEE: Feb. 22nd AT NAZARENE CHURCH
RUMMAGE SALE: MARCH 24TH IN BAY CITY
CHOCOLATE/WINE FUNDRAISER: APRIL 15TH 2-5:00 at Officers' Mess Tillamook Port.  Funds Raised are for college scholarships.
STATE CONFERENCE IN HILLSBORO: APRIL 20-22ND
INSTALLATION OF OFFICERS DINNER: JUNE 14TH
TECH TREK: JUNE 25-30TH AT TBCC
---
Branch Newsletter
---
---
On Feb. 4th at TBCC, nine high school seniors were honored for their academic studies in STEM courses.  Organizers, Kris Lachenmeier and Heidi Luquette, welcomed the students, parents and members.  A panel of professional women spoke about their work and preparation in the STEM fields:  Liane Welch (Dir. of Development of Nestucca Ridge Development), Sue Cudd (Owner of Whiskey Creek Shellfish Hatchery), Marie Miller (Solutions Architect TCCA) and Amanda Knutson (Aerospace Engineer at Near Space Corporation).  Lisa Phipps facilitated a discussion amongst the students about their goals and future plans.  The students from Tillamook HIgh School were Clair Bradley, Kalista Paladeni, Cassie Diaz and Baelie Werner.  Chassidy Motsinger and Isis Breazile attend Neah-kah-nie High School.  Becca Menefee, Patricia Marshall and Carissa Albin are students from Nestucca High School.

---
Tillamook and Bend Branches Honored by OSU Extension Service for Tech Trek
Tillamook and Bend AAUW Branches received a OSUEA Cooperator Award at the December 9th Dinner for bringing educational opportunities to girls around the state.  Tech Trek, offered through a partnership between AAUW and OSU Open Campus, provides a STEM week-long summer camp for 8th grade girls .  160 girls have participated in the Coastal and Central Oregon camps.  Bend is in their second year of providing the camp and Tillamook is in their 5th year of camp at TBCC.  Both camps will be held the last week of June 2018.  Camp Director Emily Henry and Camp Family/School Coordinator Kathy Gervasi (second from the left) represented Tillamook's Branch at the Awards Dinner.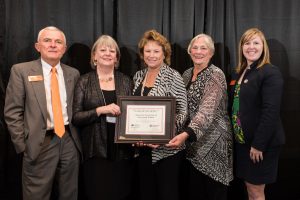 ---
2018 Chocolate/Wine Fundraiser
Support Our Annual Fundraiser for Scholarships!  April 15th at Officers' Mess Port of Tillamook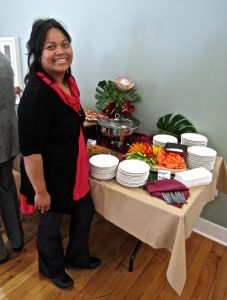 THANK YOU for your support!
---
---
5th Year of TECH TREK Camp
Last week of June 2018 at TBCC
Thirty-five young women going to 8th grade will spend a busy and full week learning about STEM.  This the 5th year of camp in Tillamook with girls coming from Astoria, Warrenton, Seaside, Neahkanie, Tillamook, Newport, McMinnville and Yamhill/Carlton schools.  Core Classes in math, App creation, Cyber Security and math will be taught by local teachers each morning.  Workshops and field trips cover a variety of opportunities in many of the sciences, math and technology.  Professional women, who work in STEM careers, will be interviewed by the girls at an evening dinner.  The camp is supported by an AAUW National grant, a Verizon grant and individual donations.  TBCC provides the campus space for classes and the girls stayed in the 4-H dorm next door.  Campers are nominated by their STEM teachers in January and interviewed/selected by AAUW members in March.  

Members Dione Bacon, Carol Iwaniw, Kathleen Marvin and Andrea Goss attend WINGS Day in Astoria along with TBCC President Ross Tomlin on February 10th.
---
About TILLAMOOK Branch
The Tillamook branch of AAUW works together to promote the welfare, education, and rights of all women and girls.
With these goals in mind, the branch works on fundraising projects and other programs that promote math, science, and technology (STEM) education for girls by honoring nine high school women each year for their excellence in these fields and by providing thousands of dollars worth of scholarships for local women attending 2-and 4-year higher educational institutions.
Our community education projects include co-sponsorship of county spelling bees and the hosting of political forums so that citizens can meet the candidates and hear their views.