By joining or supporting American Association of University Women (AAUW) you will belong to a community that breaks through educational and economic barriers so that all women have a fair chance.
Read important updates from our president ….
(Click link below)
President's
Page
WELCOME TO TILLAMOOK AAUW! Celebrating Service and Advocacy Since 1938
Calendar 
2018-19 BUSINESS MEETINGS WILL BE HELD AT ELKS CLUB in downtown Tillamook: 11:30-1:00 (Sept. 13, Oct. 11, NOV. 8, DEC. 13, JAN. 10, FEB. 14. MARCH 14, APRIL 11, MAY 9)

STEM Senior Students will be honored Jan. 27th at 2:00 at TBCC.  Young women are nominated by their STEM teachers from Nestucca High School, Tillamook High School and Neahkanie High School. 

Spelling Bee for Tillamook County finalists, Feb. 27th, 3:30 at Nazarene Church.

Chocolate/Wine and Silent Auction Fundraiser for Scholarships: Sunday April 28, 2-5 p.m. at Pacific Restaurant (downtown Tillamook)
---
2018 SCHOLARSHIPS WINNERS!

AAUW Tillamook awarded five scholarships totaling $10,300.  The winner of a scholarship for a high school senior is Baelie Werner from Tillamook High School.  She will be attending Oregon Institute of Technology.  Students already attending college received a scholarship to continue their education.  Those winners are Rebekah Hopkins who will be attending Linfield College, Luisa Hernandez who will be going to Western Oregon University and Kestral Bailey who is a student at Oregon State University.  Both Rebekeh and Luisa are transferring from TBCC.  Thelma Chavarin received the AAUW TBCC Scholarship.  They were honored at an AAUW dinner held on June 14th.  Congratulations!
Final 2019AAUW university application packet PDF 
---
AAUW Tillamook Celebrates 80 Years!
Tillamook Branch's 80th birthday was celebrated by having Claire Peterson (pictured with her husband, Roy and Kelly Benson) cut the cake.  Claire has belonged to AAUW for 72 years!   Scholarship recipients and their families were honored and new officers installed by Susan Wahlke, our NW DIstrict Director.  Andrea Goss remains as President, Nancy Kershaw as Secretary and Kathy Gervasi as Communications VP.  Susan Pierce is  the new Program VP and Kelly Benson is the new Treasurer.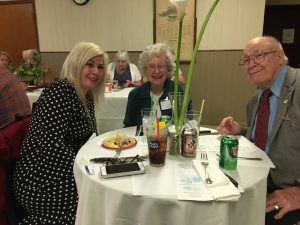 ---
---
Branch Newsletters
---
2018 Chocolate/Wine Fundraiser Raised $14,000 for Scholarships.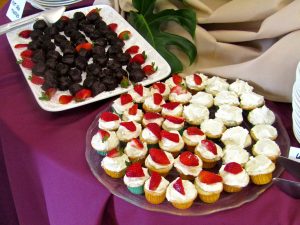 THANK YOU for your support!
---
6th Year of TECH TREK Camp at TBCC
Thirty-five young women going to 8th grade will spend a busy and full week learning about STEM June 23-28 at TBCC.  This will be the 6th year of camp in Tillamook with girls coming from Astoria, Warrenton, Seaside, Neahkanie, Tillamook, Newport, St. Helens and Nestucca schools.  Core Classes App creation and Cyber Security are taught by local teachers each morning.  Workshops and field trips cover a variety of opportunities in many of the sciences, math and technology.  Professional women, who work in STEM careers, are interviewed by the girls at an evening dinner.  TBCC provides the campus space for classes and the girls stay in the 4-H dorm next door.  Campers are nominated by their STEM teachers in January and interviewed/selected by AAUW members in March.   This National Program is held at Universities in eleven States and Tillamook's camp is the only one held at a Community College.  AAUW Bend's camp will be starting their 3rd year
---
About TILLAMOOK Branch
The Tillamook branch of AAUW works together to promote the welfare, education, and rights of all women and girls.
With these goals in mind, the branch works on fundraising projects and other programs that promote math, science, and technology (STEM)  education for girls by honoring nine high school women each year for their excellence in these fields and by providing thousands of dollars worth of scholarships for local women attending 2-and 4-year higher educational institutions.
Our community education projects include co-sponsorship of county spelling bees and the hosting of political forums so that citizens can meet the candidates and hear their views.