Domestic Violence Program
Events during 2006-2007 included Diversity Program, Women's Health Forum,
Domestic Violence, and the High School Recognition Evening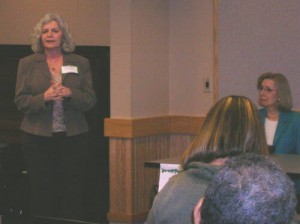 On March 15, 2007, AAUW of Tillamook and the Tillamook County Women's Crisis Center co-sponsored a panel discussion that focused on "Understanding Women, Violence and Community Resources." It was held at the Hatfield and Copeland Community Rooms at Tillamook County Public Library. Pictured: Kathleen Marvin, executive director of the crisis center, making opening remarks and (far right) Kathleen Newton, co-publisher of the Headlight Herald newspaper.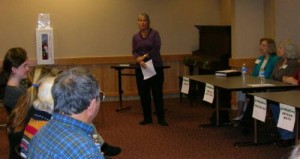 Opening remarks by Jane Frost, President of AAUW of Tillamook (pictured at center). Chris McDonald served as the chair for the committee and was assisted by Mary Ann Dearborn and Susan Pierce. AAUW members provided hospitality, refreshments, and services.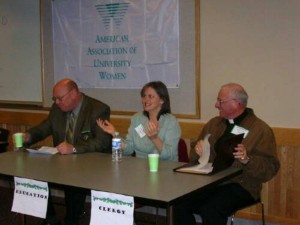 Three panelists representing the justice system, education, and clergy: (pictured left to right) Todd Anderson, Tillamook County Sheriff; Karin Kaser, Tillamook Junior High School Counselor; Pastor Ray Fergusen, St. Albans Episcopal Church.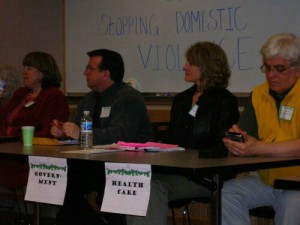 Panelists: Tamara Z. Hulburt, Solutions DVIP Program Manager; Joe Herbert, Fred Meyers Manager; Alicia Carignan, Oregon Dept. of Human Services Manager; Paul Betlinski, Tillamook County Health Dept. Physician. They represented the fields of social services, employers, government, and health care.